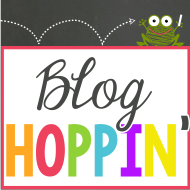 I'm not sure if I even care if this sounds gushy, I am just too excited to worry!
I have collaborated with Deanna Jump on a few projects over the last year, and let me tell you, she is one extraordinary lady! I have long held her in high regard for so many reasons. Top of the list would have to be what she has done for Early Childhood teachers and education in general, and especially for what she has done for those of us that self publish teaching resources.
She made it real. The world is taking notice of her achievements. 'Early Childhood', 'Kindergarten', 'little ones', and quite often female teachers of younger children are often overlooked. Deanna has done so much to make people stop and notice - and to appreciate.
True to form, I noticed the little things as I entered this blog/online/TpT world. I started to look beyond her products, store and sales and took the time to see and appreciate what else she does. But just as importantly, what she doesn't do. I am so very thankful that we have someone so kind, positive, thoughtful, respectful and genuine as the benchmark in this field. If teacher-sellers like Deanna acted any other way, I doubt there would be a field for us to play in!
I am joining in with her again, this time on
Blog Hoppin
' - a collaborative blog with a truckload of more wonderful bloggers and teacher-sellers!
I know.. I told you it was going to be gushy. But just let me, and then it will be out of my system, promise. I mean, I am still pinching myself.
While I have you here... have you seen my bundle for 2D shapes?
The pack consists of 4 smaller files - a teaching pack, printable workbook, display posters and craftivity.
You can find it in my TpT store
HERE
It includes a variety of posters..
for a variety of 2D shapes (please note that 'trapezium' is also included for Aussie teachers).
Students will love making a special shapes book, that also focuses on learning colours as well.
There is a variety of worksheets and hands-on activities - too many to show them all!
The craftivity will help make an attractive classroom display!
I posted this freebie on my blog a while ago, and you can still grab it from Google Drive, by clicking on the image below. It helps with colours, shapes and graphing!
Thank you so much for stopping by!